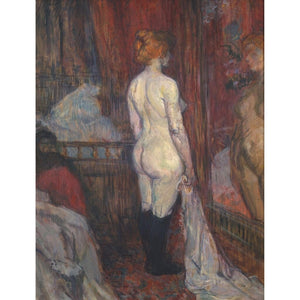 REFLECTION - MINT By Michelle Decoupage Paper
Bring the museum to you with this stunning Impressionist Oil painting by Henri de Toulouse-Lautrec.
Painted in 1897 it now lives at the Metropolitan Museum of Art in New York.
Toulouse-Lautrec is amongst the best known painters of the Post Impressionist period. Born into the aristocracy, Toulouse-Lautrec broke both his legs around the time of his adolescence and, due to an unknown medical condition, was very short as an adult due to his undersized legs. He developed an affinity for brothels and prostitutes that directed the subject matter for many of his works.
MINT decoupage papers are all designed especially with furniture art and refurbishment in mind.
Each design is available in:
A3 - 297mm x 420mm (small) 
A1 -  594mm x 841mm (large) 
The optimum paper size, gsm and print have all been painstakingly curated by Michelle of MINT, and is a culmination of years of working with decoupage papers and refurbishing furniture with individuality, style and artistic scope in mind. 
Use with Wise Owl Varnish or One Hour Enamel Clear Coat.
MINT decoupage papers are made and manufactured in Geelong, Australia. 
REFLECTION Decoupage Paper | MINT by Michelle | Decoupage Paper for Furniture