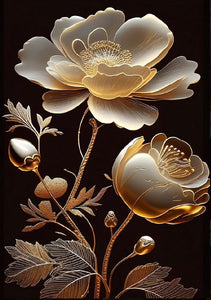 Golden Bloom 1 - MINT Decoupage Paper for Furniture
These beautiful and unique decoupage papers are brought to you from Michelle of MINT. 
Designed especially with furniture art and refurbishment in mind and painstakingly curated by Michelle they are culmination of years of working with decoupage papers and refurbishing furniture with individuality, style and artistic scope in mind. 
Available in A1 - 60cm x 84cm (large) or A3 - 30cm x 42cm (small) 
Optimum paper size 
Quality print 
Easy to use
The papers are available in sizes A1 & A3 which makes them versatile for working on both furniture and craft projects.
They can be applied to a range of surfaces such as wood, glass, metal and plastic.
You can apply them with a good quality decoupage glue. I recommend Fusion Decoupage and Transfer Gel.  
Each paper includes easy to follow instructions for 2 different decoupage methods. 
If you need any assistance please do not hesitate to contact me or head over to my blog for some helpful hints and tips.