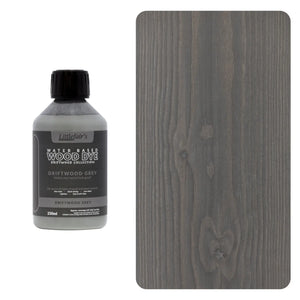 Driftwood Grey - Littlefairs Interior Wood Dye
Driftwood colours have been formulated to create a textural, salty weathered effect. 

This unique formula penetrates the wood to produce a beautiful aged appearance on timber such as furniture, doors, skirting boards, architraves & mouldings.
Indoor use
Water based
Environmentally friendly
Non Toxic 
Quick drying 
Low odour 
Touch dry in 2 hours 
Coverage 1 litre to 10 sq m 
Littlefair's Water Based Wood Dye produces a more natural 'positive' grain effect.

Most other wood stains are more easily absorbed into the softer areas of the wood between the darker details of the natural grain. This results in a 'negative' stain effect as it causes the softer area to go darker which in turn leads the actual grain appearing lighter. Littlefair's Water Based Wood Dye enhances the darker details of the natural wood grain and produces the desired natural finish.
Colour Reproduction
We endeavour to reproduce our colours and finishes as accurately as possible.
 However there are a range of factors to consider when comparing our samples to your chosen project: the type and condition of the surface itself may produce a slightly different appearance of the finished colour.
Please note: Our Water Based Wood Dyes have a matt appearance when dry and come to life when finished with Littlefair's Wood Finishing Products. We recommend finishing your project to provide the dyed wood with extra protection.
Littlefair's Water Based Wood Dyes are lovingly bottled by hand in the North West of England using the unique colour formulae created by Mr. Littlefair himself.