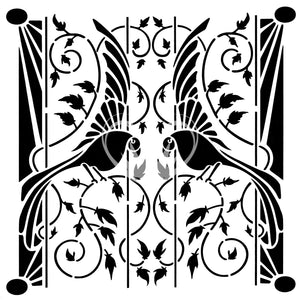 Deco Birds
Jonathan Marc Mendes Posh Chalk Premium Stencils. A range of three high-quality stencils which are perfect for your craft or furniture upcycling project.
They can be used on any type of material including being used as a wall stencil.
This range of stencils are designed by Jonathan, a renowned furniture artist, and the artwork featured in these stencils are hand drawn and exclusive to Posh Chalk.
These stencils perfectly complement both Posh Chalk coatings and WoodUbend. Mix your Posh Chalk coatings for different colour effects; add WoodUbend to your project to give it lift-off!
You could use these as wall stencils to create a piece of wall art. Alternatively, use on furniture as part of a furniture upcycling project.
These stencils are high quality PET measuring 0.25mm thickness; they are tough enough to be washed and used again and again.