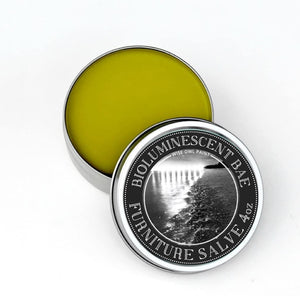 Bioleminscent Bae - Wise Owl Furniture Salve
An aromatic freshness opens and lingers on the warm, addictive fullness of Cedar and Sandalwood from New Caledonia.  Bioluminescent Bae is an intense, woody, masculine fragrance with notes of musk, ginger, and jasmine that will leave you wanting more.
Our Furniture Salve is often called "magic in a tin can", and for good reason!  Our hugely popular and celebrated all-natural Furniture Salve is hemp oil and wax-based without nasty fillers or solvents. With salve, you can revive, rejuvenate, and protect/seal all in one easy, safe step! Furniture Salve has endless applications and is available in a variety of scents, including unscented.  You can use over raw or stained wood, seal Chalk Synthesis Paint with it, renew leather, polish furniture, and all of your stainless-steel appliances (don't forget your kitchen sink!), clear up foggy headlights, and even shine up old vinyl in cars.
Apply with one of Wise Owl's Premium Wax Brushes, let it sit for about 20 minutes, then use a lint-free cloth to easily buff away the excess.