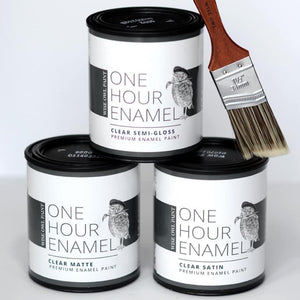 Clear One Hour Enamel - Wise Owl
OHE Clear is available in three gorgeous sheens. Matte, satin and semi-gloss. 
A revolutionary topcoat with super-fast cure times that will allow you to return your pieces back to service in just a few hours!
If you want to Glaze over your One Hour Enamel painted furniture or cabinets then OHE Clear would be the perfect Glaze topcoat! 
CLEAR One Hour Enamel | Furniture Varnish/Top Coat | Wise Owl